SANTE HEALING SPA SERVICES
FEATURED SERVICES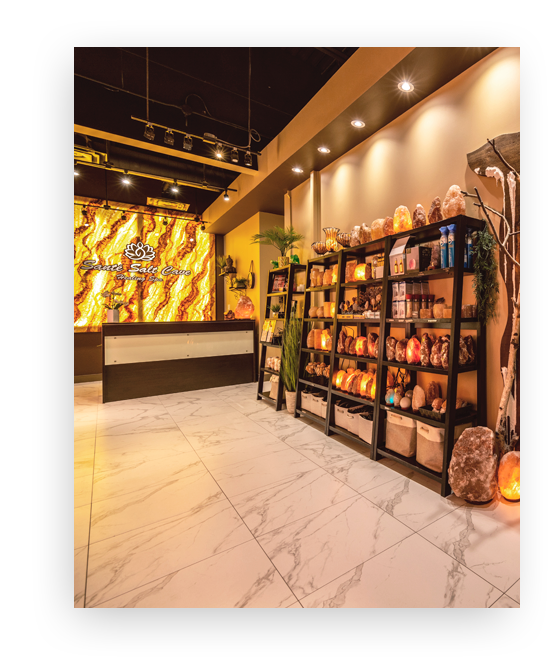 MEDIA FEATURE
WELCOME TO OUR SPA
MEDIA FEATURE
AS SEEN ON BLOGTO
Innovative health solutions to boost your health and well-being
Sante Healing Spa
Full list of our innovative health services
Santé Healing Spa offers holistic treatments with therapists, incorporating the use of pink Himalayan Salt Throughout all treatments. Our clients have experienced incredible improvements with a number of different health concerns as well as stress reduction. Our services are an investment in your long-term health and well-being, and our knowledgeable staff are pleased to answer all your questions!
Salt Cave Halo-Therapy
Up to 8 guests recline in zero-gravity chairs with blankets—the caves are kept between 18-20 degrees. Read a book or practice focused breathing as you inhale the salty benefits. Couple's sessions also available.
Massage Therapy
Choose from our Holistic Full Body Massage, Swedish Salt Glow Massage, Bamboo Massage, 30-Minute Ache Awgoay Massage, or Hot Salt Stone Massage. Couple's massages and combo treatments also available when you book spa treatments in Thornhill.
Esthetics
From cleansing facials, to detoxifying body scrubs, an abundance of beneficial body wraps, and a variety of cosmetic procedures with a holistic approach to looking your best, your options really are endless.
Infrared Salt Sauna
Detoxify in a private infrared sauna while with the added benefit of pink Himalayan salt. Simply rest your feet on the salt, and feel your pores open up to facilitate the release of toxins.
Hand & Foot Detox
Up to 4 sit with hands and feet on warm salt stones that detox the body, relieve water retention, and stimulate the central nervous system. You can also opt for a combined oxygen therapy session!
Crystal Wet Sauna
Step inside our one of a kind luxurious Green Agate Crystal Wet Sauna and experience the benefits this precious stone provides. The heater is lined with beautiful Imperial Jade stones and reaches a temperature of 65-70 degrees. This is a private treatment that can hold up to 4-guests at one time.
Rejuvenation Steam Pods
The rejuvenation pod is a futuristic capsule that incorporates warm therapeutic steam along with Red Light therapy. The Rejuvenation Pods assists in detoxification, pain management, skin purification, weight loss, cardiovascular health and stress reduction. Aside from all of these incredible benefits, white blood cell production is increased, helping to strengthen the immune system.
Pink Salt Flotation Therapy
Our open concept glass tank accommodates 1 or 2 people. Whether you're in as a couple or are floating solo, enjoy our large 6×5.5 foot tank. Towels, body wash, shampoo, conditioner, and blow dryers provided.
Oxygen Therapy
Have a seat at our oxygen bar in the salt cave spa in Thornhill and access this powerful specialized therapy. We provide magazines to read and oxygen cocktails, so kick back, relax, and enjoy.
SANTE HEALING SPA
ANCIENT KNOWLEDGE + LATEST TECHNOLOGIES
SANTE HEALING SPA
Real Client Testimonials
Salt Cave therapy did wonders to me, and quite unexpectedly I must admit. I went there on a recommendation of my cousin and I can attest that my issues have been improved greatly after a number of sessions.
We are really appreciative of the level of professional care we received and are really happy about the results it produced for us! Thank you very much!
We usually go to Sante Spa with the whole family that includes my wife and two daughters. We all benefit greatly from the services we receive and we all feel reinvigorated after the treatments. Thank you guys, we will see you soon!
QUESTIONS / INQUIRIES/
WE WOULD LOVE TO HELP!